FRIDAY NOVEMBER 24th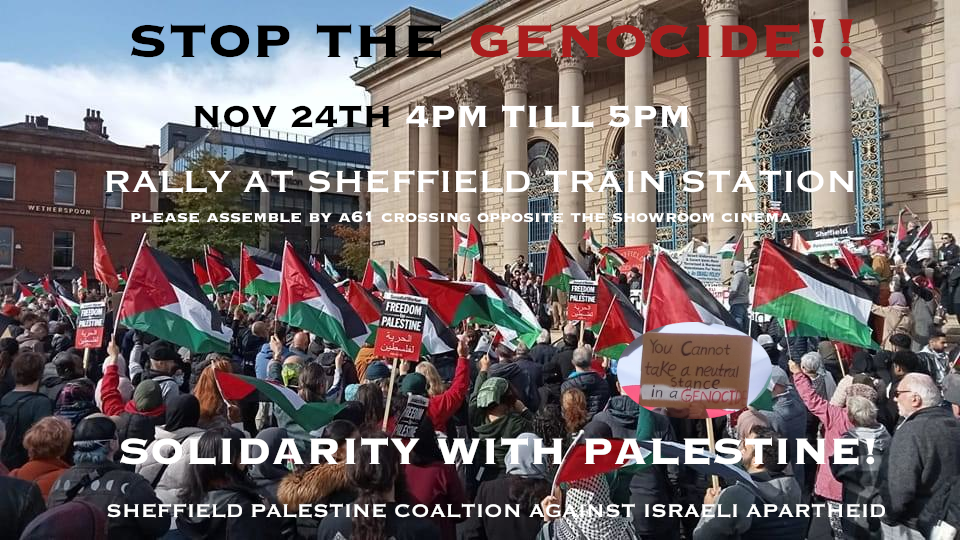 SATURDAY 25th NOVEMBER ACTION.
FOR THOSE WHO WISH TO GO T0 LONDON BOOK YOUR COACH HERE. (Details of Sheffield Rally to follow.)
LONDON COACH details –
Depart 8:00 AM – From outside the Hubs, Paternoster Row Sheffield, S1 2QQ
Return 9:30 PM.
We will leave London at 4pm from a point agreed with the driver
The coach tickets cost £25 waged and £10 unwaged
We are encouraging people who can to pay a £10 donation so we can keep the price of tickets down.
PLEASE BOOK EARLY
NOVEMBER 26th
Please buy your tickets here
Nov 29th is UN International Day of Solidarity with Palestinian People. How they need that now!
Prices of food in Gaza are now extremely high. The work Musheir has done on the ground has enabled volunteers to access supplies and so far 1831 families have had parcels of food or blankets or clothes.
Every £400 pounds raised will feed 1000 people with rice and lentils.