As a lifelong student of mathematics, I take an interest in the use and misuse of bar charts. I found one under a headline
'Is Palestinian-Israeli violence being driven by social media?'
There is the usual veneer of objectivity
'Both Israel and the Palestinian authorities have accused one another of doing nothing to protect each other's communities.'
Later comes the bar chart.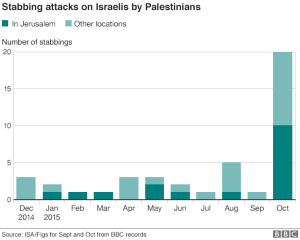 The fact that there are over 50 Palestinian dead is of course downplayed. By any measure of objectivity there should be corresponding figures of Palestinians attacked or killed by Israel. After three seconds of research I found this on Wiki.
Last year's figures of 2,205 (UNOCHA) Palestinian and 71 Israeli dead have not been added yet, so you need to add a huge spike for last year.
Anyone killed leaves a network of friends, workmates, and relatives sad and wanting vengeance.
But the BBC's constant portrayal of Israel as defenceless victim of Palestinian violence is a gross misrepresentation of reality.
PS
My last complaint drew the reply below.
This is my reply to that.
The evidence is that the BBC has a systematic bias towards Israel.
I spend time and effort showing that the BBC considers the landing of a rocket in an open field in Southern Israel much more important than the deaths of six protesters.
The headline and the first two sentences paint a false picture that Israel is under attack.
Only after this comes the Palestinian deaths.
I asked for a reason for downplaying of Palestinian deaths and the highlighting of a rocket landing in an empty field.
Instead I received a bland statement that the BBC tries to be impartial.
You are failing. When you choose to have a bar chart showing "Stabbing attacks on Israelis by Palestinians" http://www.bbc.co.uk/news/world-middle-east-34513693
you are surely obliged to have one "Military attacks by Israel on Palestinians".
I could not find it.
Dear Dr  Pitt Thank you for contacting us about the recent escalation in violence in Israel, the West Bank and Gaza. We have received a wide range of feedback about our coverage of this subject across our television and radio programmes, and the BBC News website. In order to use our TV licence fee resources efficiently, this response aims to answer the key concerns raised in complaints received by us, but we apologise in advance if it doesn't address your specific points in the manner you would prefer. We appreciate you believe our coverage of this story has shown bias in favour of Israel and against the Palestinians. In this response we hope to explain why we feel this has not been the case. Across our news bulletins and programmes we have reported on the increasing number of Palestinian deaths and casualties following the actions of Israeli security forces. We have broadcast reports where our reporters have spoken to the families of Israelis and Palestinians killed in the recent violence and have heard their respective stories and own specific takes on the conflict. We have reported on criticism of Israel's response to the attacks, which has included the implementation of curfews in East Jerusalem and the West Bank and the destruction of homes of Palestinians Israel claims are connected to the attackers. We have tried to explain how the current situation has come to pass from the Israeli and Palestinian perspectives. This has included reporting on the tensions around the holy sites in occupied East Jerusalem, the building of settlements and on the daily realities faced by Palestinians living under occupation. We have explored the apathy held by many Palestinians toward the impasse in reaching a lasting peace settlement, and on what many see as Israel's unwillingness to end the occupation which would see the creation of an independent and sovereign Palestinian state. BBC News tries to report on the Israeli-Palestinian conflict in an accurate and duly impartial manner. Sometimes this means we can't always reflect the full extent of the complexities of the conflict during one standalone report or bulletin. We try to tell the story of the conflict as experienced by both sides, across programmes and bulletins and over time. We believe this has been the case during our coverage of this recent spike in violence. We have raised your concerns with senior editorial staff at BBC News, who consider the range of feedback received from our audience when deciding how they approach reporting on stories. Thanks again for taking the time to contact us. Kind Regards BBC Complaints www.bbc.co.uk/complaints