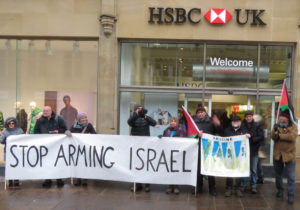 It would be impossible for Israel to steal land from the Palestinians if it was not militarily superior.  That superiority is maintained by the aid budget from the USA and military trade with the West.  That trade could not go ahead without the support of the banks.  On Saturday we were on the streets to point out that HSBC profits from an arms trade that  helps Israel steal Palestinian land.
After the protest some of us went into the bank to complain to the manager that we had had no reply to three letters that we had previously delivered.
These protests, as well as putting pressure on HSBC, allow us to put our case to the general Sheffield public.  It also allows us to inform sympathisers of our next meeting.  In this case a talk by Ramzy Baroud 5pm Sunday March 18 at UMIX Centre 7 Asline Rd, Sheffield, S2 4UJ
Ramzy Baroud is an activist and author of My father was a Freedom Fighter.