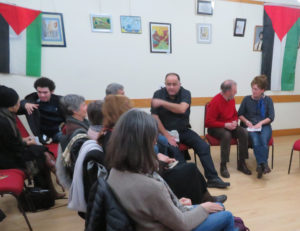 As well as public meetings we have smaller working groups.  On Thursday 22 February 2018  at Friends Meeting House we had one such meeting.  It was about the Khuza'a Healing Centre for children in Khuza'a. 
The more public part of the meeting was led off by Mona al-Farra who movingly described the work of Mecca, and Never Stop Dreaming.
Sheffield PSC, in cooperation with women from the Yemeni Association in Sheffield are constructing a play and healing centre in Khuza'a, aimed at helping traumatised children in the area and beyond. The project will be run by one of our partner children centres; Never Stop Dreaming in Khan Younis.
This is a hugely ambitious project.  The second half was aimed at some of the detailed work that we need to do to firstly to spread
 awareness of the need for the centre within the wider community of Sheffield and beyond and secondly to establish a steady stream of cash for the running of the centre.